Quickly get the information you need to rent with confidence:

Enter your rental info
& amenities

Obtain current Rental
Market Report

List your rental with
confidence

Increase rent with
confidence
Wondering how much rent to charge?
Find current market trends quickly,
get a full report on your property for only $19.95.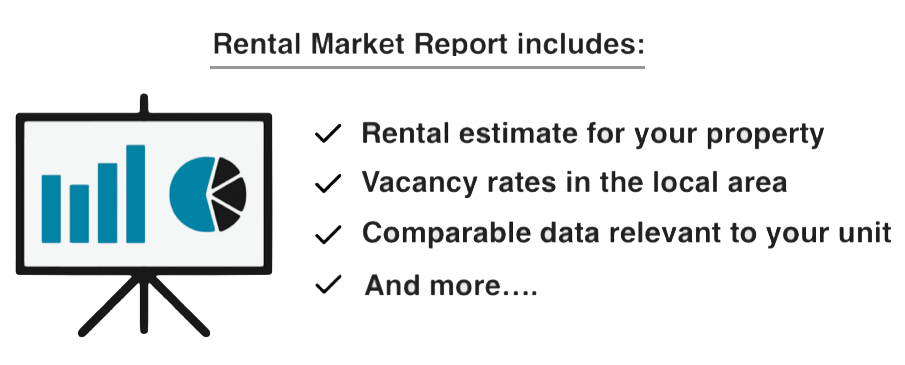 Make A Smart Real Estate Decision

Property Reports provide a complete analysis of specific properties, including estimated rental rates, rental trends, area vacancy rates, rental market strength indicators, comps for nearby rentals and other vital intelligence.

Don't Leave Money On The Table

With a rent estimate which is inline with what the market bears you will avoid charging too little and maximize your rent income.

Reduce Your Vacancies

With a rent estimate which is inline with what the market bears you will avoid charging too much, rent faster and stop vacancy losses.

A Professional Approach Without The Cost

The Rental Property Report is filled with cost-effective, actionable, location sensitive data which you will receive in minutes with a click of a button for only $19.95.
Once attained reports will be stored online for your future reference.
Data for reports is updated on a monthly basis, so you can be sure that you are receiving current information.
Reports are in PDF format so you can digitally share and print them with ease.
How can a Rental Market Report help me?
We will give you a rent estimate based on your address and the current market trends. Based on this information you can list your rental,
What do I get in rental market report?
The report provides an in-depth comparison of your property and other properties in the area that gives you valuable insight for discerning investment property analysis.
What is the source of iManageRent estimated market rent?
Reports are supported by an extensive database of real estate investment properties across the U.S.
How long are the rent estimate reports valid for?
Our model brings in new comparable data on a regular basis so report is good for 30 days.  You may opt to run a new
How do I handle furnished rentals?
Our rental estimate assumes the property is in average condition compared to the condition of unfurnished properties in the radius searched .  We do not
I have rented my property for a long time to the same tenant, why this report is "useful" to me?
If you haven't given a rent increase in a while maybe it's a good time to update the financial health of your rental and exercise
What is the price of the report per unit and how can pay for it?
The complete Rental Market Report costs  $14.95 and we accept major credit cards as a form of payment.
How long after i have completed the order for the report will i receive it?
The report is ready within several minutes and will be made available to you in a PDF format on your iManageRent dashboard.
What happens to the report after i am done using it?
The complete report will be saved and is accessible to you under the "Stored Documents" section of the unit on your dashboard.
What criteria are used in generating the report?
The report takes into account these major criteria: Property address, zip code, multifamily vs. single family, number of bedrooms and bathrooms, square footage, location, proximity,
---
Start now with our Easy-to-use Renter Tools