Automate rent invoicing & late fee accouting and have tenants make payment directly into your account:

Enter your rental property

Input and invite
tenants

Input lease parameters
& start rent invoicing

Designate deposit account
& start collecting rent
Rent collected and deposited
directly into your bank account
Automated monthly invoicing for rent & miscellaneous items
Payment tracking and automated late fee collection
Charge rent monthly, weekly or daily rates
Fast ACH, debit and credit card payments
Tenant Benefits
Automatic payments
Automated reminders
Split pay between roommates
ACH, credit & debit card payments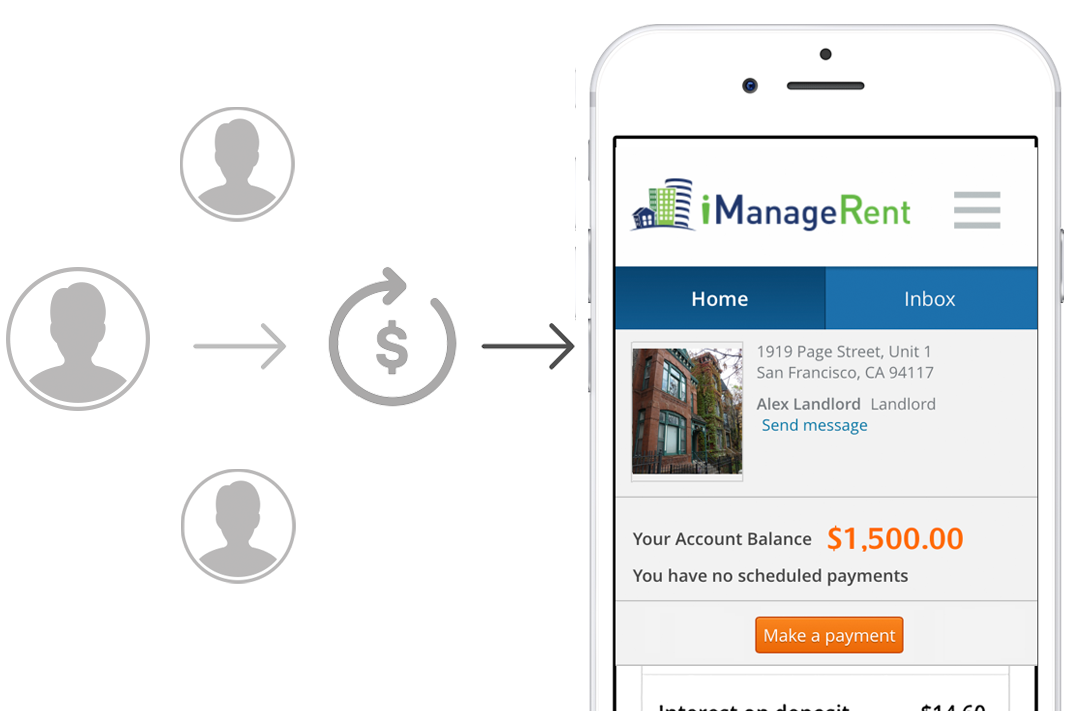 Read our blog
Online Payments...
benefit by

Saving time

Increasing reliability

Improving relationships

Simplifing your life
Save Time

"Collect Rent online" and have it deposit directly into your bank account. Hours spent tracking and cashing those checks are now yours to enjoy.

Increase Reliability

Checks are no longer lost in the mail. Chronic late payers quickly learn and kindly get their ducks in a row.

Improve Relationships

iManageRent manages payments on your behalf without discrimination. The best part is you don't need to get involved in the routine collection process.

Simplify Your Life

No more tracking down payments and trips to the bank. Keep and access all transaction records for your properties in one secure place.
Be notified when a "Rent Payment" has been scheduled and deposited into your bank account.
If you've ever ignored late payments, our automated system won't. It sends a reminder notice to tenant with the late fee amount. Receive weekly performance reports.
Deposit accounts can be assigned at the unit level.
Customize and automate rent, past due noticing and late fee invoicing.
ACH Payments are secured through SSL encryption with iManageRent.
View account balances and generate aging reports.
Allow tenants to enjoy all the efficiencies of automatic payments.
Go paperless and become environmentally friendly.
What do I need to "list my rental"?
Your property address, some pictures if you have them, and your email address.
How can I list my property?
Start by clicking on "List Your Rental property" and follow the quick and easy steps. Click here for demo
What do I need to "list my rental"?
Your property address, some pictures if you have and your email address.
What happens after I enter my rental information?
iManageRent verifies your email and your listing will be published on your selected listing sites.
Is there any cost associated with this service?
It's free! iManageRent offers "free rental listings".
What are the advantages of listing my apartment with iManageRent?
With iManageRent, you can share and publish your listing on Apartments.com, Apartmentlist, Zillow, Trulia and LiveLovely all in one go!
How can I find my listing on a particular site?
From your listing manager, iManageRent provides a link to all your active listings. The same link is available in your listing notifications, which are emailed
Is iManageRent affiliated with any of the other listing sites?
We are not affiliated with any other classified aggregators where our listings appear.
How can I add, edit, repost, and delete my listing?
If you are listing for the first time, you must choose a password at the last step of the listing process. From there you will
How do I receive my leads?
You decide how. You may receive phone calls or emails to your individual mail account. iManageRent keeps a copy in your inquiry manager tab.
Will prospective tenants see my email address or contact information on the listing?
Prospective tenants will only see the information that you choose to share on your listing. During the listing process, we provide you with the tools
Can I upload photos to my listing? How many?
Yes you can upload up to 15 high-quality images.  
Which format and size should I use to upload my photos?
You can upload JPEG, TIF, PNG, PDF, and EPS format. Our system will automatically adjust the size.  
Can I add maps to my listing?
iManageRent automatically adds Google maps and street view to your listing. However, each individual syndicated site might alter the display to their listing display defaults.
Can I share my listing on social media?
Yes. iManageRent provides you with the tools to easily share your listing on social media sites such as Facebook, Twitter, Google+ and more.
What can I do with HTML code?
iManageRent provides the HTML code. You can easily copy and paste the code to publish the listing to your desired web page.
What can I do with the QR code?
The QR code allows you and your prospective tenant to scan and view your listing on the go.
Why does my listing appear different on different sites?
Each individual syndicated site might alter the display to their listing display defaults.
When will my listing expire?
Your listing will expire 7 days after the start date. iManageRent will send a reminder to your email address to relist the day before.
What happens to my listing when it expires?
Your listing will be automatically archived for future use.
What's the difference between draft and active modes?
A draft listing is a work in progress and an active listing is live.
How do I activate my listing from a draft?
Choose your desired listing from the draft folder, complete your information, preview, and list.
How do I list from archive?
Choose your desired listing from the archive folder, if need be edit and relist.
How can I stop or cancel my listing?
If you have filled your vacancy or, for any other reason, would like to stop your listing, it can be done in one of two
---