Automate rent invoicing & late fee accouting and have tenants make payment directly into your account:

Enter your rental property

Input and invite
tenants

Input lease parameters
& start rent invoicing

Designate deposit account
& start collecting rent
Rent collected and deposited
directly into your bank account
Automated monthly invoicing for rent & miscellaneous items
Payment tracking and automated late fee collection
Charge rent monthly, weekly or daily rates
Fast ACH, debit and credit card payments
Tenant Benefits
Automatic payments
Automated reminders
Split pay between roommates
ACH, credit & debit card payments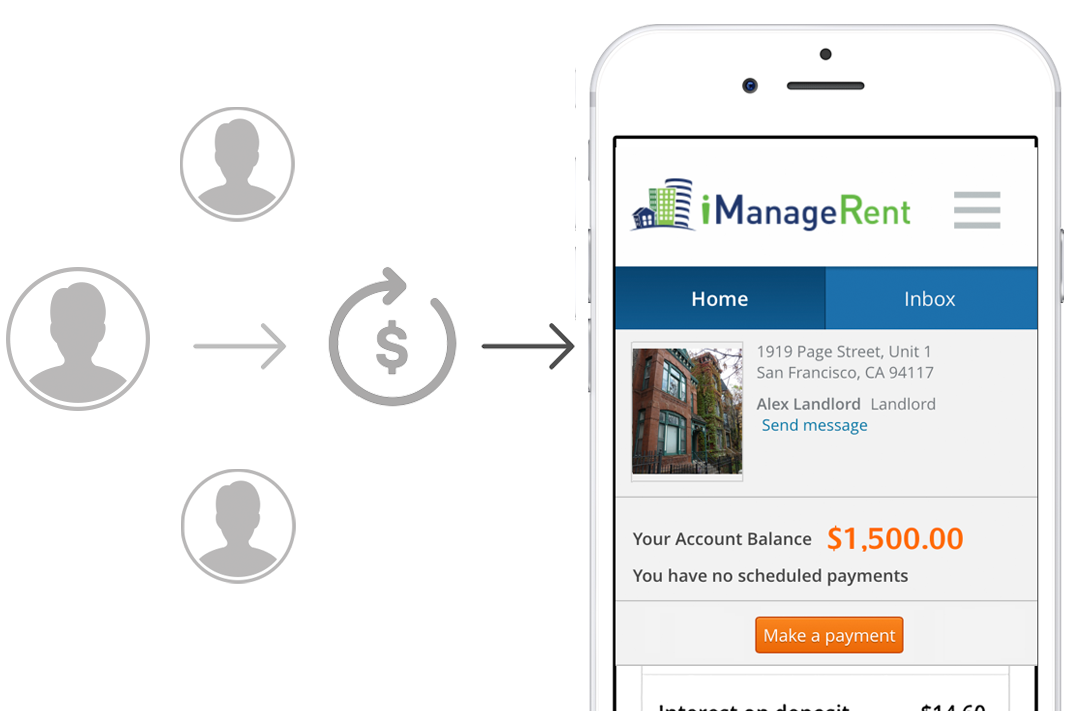 Read our blog
Online Payments...
benefit by

Saving time

Increasing reliability

Improving relationships

Simplifing your life
Save Time

"Collect Rent online" and have it deposit directly into your bank account. Hours spent tracking and cashing those checks are now yours to enjoy.

Increase Reliability

Checks are no longer lost in the mail. Chronic late payers quickly learn and kindly get their ducks in a row.

Improve Relationships

iManageRent manages payments on your behalf without discrimination. The best part is you don't need to get involved in the routine collection process.

Simplify Your Life

No more tracking down payments and trips to the bank. Keep and access all transaction records for your properties in one secure place.
Be notified when a "Rent Payment" has been scheduled and deposited into your bank account.
If you've ever ignored late payments, our automated system won't. It sends a reminder notice to tenant with the late fee amount. Receive weekly performance reports.
Deposit accounts can be assigned at the unit level.
Customize and automate rent, past due noticing and late fee invoicing.
ACH Payments are secured through SSL encryption with iManageRent.
View account balances and generate aging reports.
Allow tenants to enjoy all the efficiencies of automatic payments.
Go paperless and become environmentally friendly.
---