Maximize your property value in minutes:

Use rent increase calculator to get new rent

Input rental
information

Generate rent increase notice & send to tenant
Automate task
for next time
Automate rent increases
and maximize property value
Increases will be automatically calculated,
rent adjusted and tenant notified
Rent control rules built in (San Francisco) *
For every $1/mo of extra income, increase your
property value $200+
Other cities customizable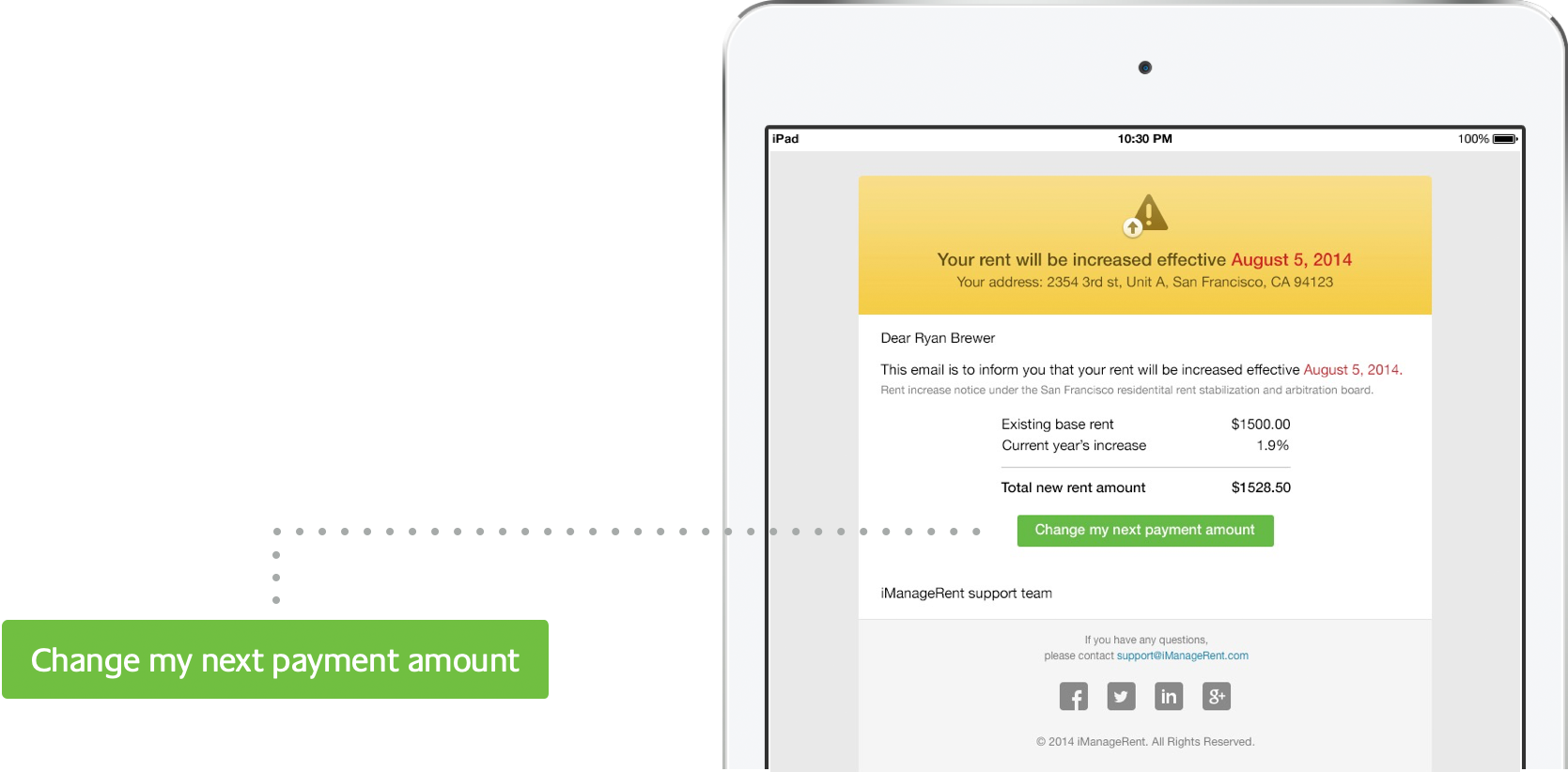 benefit by

Saving time

Having a peace of mind

Maximizing property value

Improving relationships
Save Time

Our system will calculate, adjust and automatically notify tenants of an upcoming "Rent Increase".

Piece of Mind

The engine that hums behind your dashboard is being carefully designed and updated to do just that. Feed it the correct date, and it won't fail you.

Maximize Property Value

Achieve top value by increasing property income to the maximum level that your rental agreement allows.

Improve Relationships

We help you maintain a simple, transparent and straightforward relationship. Your "Rent Increase" won't come as a surprise. iManageRent will always notify your tenant well in advance as required by law.
Send reminders to yourself to be alerted ahead of future "Rent Increase" actions.
Easily access and review detailed calculations of all rent increases.
Have instant access to the history of all your rent adjustments.
How do I collect rent online?
You must enter your unit address, rent, tenant and deposit account information. iManageRent verifies your deposit account (a 3 to 4 day process) and invites
What rent information do I enter?
The required information including rent $ amount, payment due date, past due date, late fee information and invoicing start date.
What tenant information do I enter?
You must enter your tenant name and email address.
How do I set up my deposit account?
Landlords and property managers may add a deposit account to receive rent and other payments from their portals.  From your home page hover your mouse over your
What type of accounts can I use for transactions?
Checking or savings accounts issued by banks and financial institutions operating in US.
Can I set up more than one bank account to accept rent?
Yes. You can add more than one deposit account to your profile. Please note deposit accounts are assigned at unit level.
How do multiple tenants of one unit pay rent?
You may choose to accept rent from only one tenant or give the option to accept split payments. In all cases all tenants are responsible
How long does it take to receive my rent payment?
Tenants can pay rent either via Credit/Debit card or ACH. For Credit/Debit card payments funds are typically deposited into the recipients account the next business
How can I find out when rent gets paid?
iManageRent notifies you via email each time a tenant schedules payment and when funds successfully are deposited into your account. You can view all scheduled,
What happens if rent is late or partially paid?
In both case if you have set up a late fee, tenant is automatically noticed and charged.
How can I set up late fees?
You can set due date, number of days that late fee applies and amount. iManageRent tracks payment and sends late notice fee automatically.
What happens if tenant does not pay or has insufficient funds?
iManageRent alerts you and your tenant via email, and sends late notice fee automatically.
How can I change the rent amount?
You can manually change rent or set up automatic periodic rent adjustment from your dashboard.
How do I cancel online payment?
You can stop online payment with a click of a button. However if your tenant has initiated a payment it can NOT be stopped while
Is there any cost to my tenants for paying rent?
iManageRent does not charge tenants for this service.
How do you pro-rate rent for a tenant?
During initial rent invoicing set up you must enter details and iManageRent automatically pro-rates the first rent invoice.
How can I charge a tenant a fee for some non-rent item?
From your dashboard go to tenant invoicing feature to get started.
How secure is the online payment process?
iManageRent is secured by the highest level data encryption offered. Your financial information is only stored at the financial institutions handling payments. Rest assured that
How do i switch my deposit account used to receive payments?
Landlords and property managers may select alternate deposit accounts for receiving payments at the unit level after account has been setup. From your home page
---